To further enhance the level of ophthalmic medical care and innovation capabilities, explore collaborative innovation for a new model of transformation, and establish a leading ophthalmic health science and technology innovation hub in China, Eye Valley @China, in conjunction with Eye Hospital, Wenzhou Medical University and other related institutions, will host the "2023 Eye Valley @China Ophthalmic Innovation and Entrepreneurship Global Competition ."
At that time, Eye Valley @China will gather innovative and entrepreneurial elements in the field of ophthalmology and optometry from across the country, including technology, capital, market, policy, and more. We will invite at least 30 renowned experts and scholars in the field of eye health, 30 leading industry companies, and 30 top investment institutions to participate in this conference. Together, we will build a collaborative platform that integrates innovation showcase, exchanges and cooperation, industry-academic integration, and project incubation.
Ⅱ.Organizational structure of the competition
Supervising Units:
China Association for Science and Technology, Zhejiang Provincial People's Government
Organizers:
Zhejiang Provincial Association for Science and Technology, CPC Wenzhou Municipal Committee, Wenzhou Municipal People's Government
Host Units:
CPC Wenzhou Municipal Committee Organization Department (Municipal Talent Office), Wenzhou Municipal Bureau of Science and Technology, Wenzhou Municipal Bureau of Economy and Information Technology, Wenzhou Municipal Human Resources and Social Security Bureau, Wenzhou Municipal Investment Promotion Bureau, Wenzhou Municipal Association for Science and Technology, Wenzhou Bay New Area Management Committee, Longwan District People's Government, Wenzhou Medical University, Eye Hospital, Wenzhou Medical University, Eye Valley @China, Wenzhou Global Eye & Vision Innovation Hub
Ⅲ.Participation Requirements
1. The project leader should be under the age of 55 and meet one of the following conditions: Holds at least one invention patent.Holds a master's degree or higher. Holds a senior professional title or above.Qualifies as a talent meeting the criteria of Category E or above in the "Wenzhou Talent Classification Directory," whether domestic or international.
2.Participants can compete individually or as a team, but each participant or team can only submit one competition project. Team members should have stable cooperation.
3.The participating project should possess independent technological innovation achievements and should not be involved in any intellectual property disputes. Plagiarism, misappropriation, provision of false materials, or violations of relevant laws and regulations will result in immediate disqualification, and the responsible party will bear all legal liabilities.
4.Participants should prepare a comprehensive and feasible business plan, including core technology, market prospects, operational strategies, funding requirements, team member introductions, and future plans.
5.Participants should have a clear intention to innovate and start a business in Wenzhou, or their project should already be established in Wenzhou but have not participated in previous editions of the China Eye Valley Innovation and Entrepreneurship Competition.
Ⅳ. Industry Focus
This competition focuses on the field of eye health, including ophthalmic drugs, ophthalmic materials, optometry equipment, visual optics, eye health services, smart healthcare, and future technologies.
Ⅴ. Registration Procedure
1. Online Registration
Search for "China Eye Valley" and visit the exclusive registration page for the competition (Website: https://zhwz.eyevalley.org/).
Click "Log In" to access the registration system and follow the instructions to create an account and complete the registration details.
2. Registration Notes
You are required to submit a registration form and a project proposal. Please complete each section carefully and take responsibility for the accuracy of the information provided. The competition organizing committee is not responsible for inaccurate information.
The enterprise information you submit will serve as review material and will be kept confidential by the competition organizing committee.
After submitting the registration form, the organizing committee staff will contact you within 3 working days. Please keep your phone line open.
Contact Persons at the Organizing Committee:
Dr. Gao: yi.gao@eyevalley.org.
3. Registration Period
From now until October 31st.
VI. Schedule arrangement
For each project team participating in the finals in Wenzhou, transportation subsidies will be provided based on the following standards: 7,000 RMB for teams from outside Asia, 5,000 RMB for teams from Asian countries, 2,000 RMB for teams from other provinces in China, and 1,000 RMB for teams from cities within the same province but outside Wenzhou.
Ⅷ. Award setting and support policies
We have prepared a series of rewards and multidimensional entrepreneurial support for outstanding projects. For specific details, please refer to the official competition website at https://www.ogcc.eyevalley.org/.
About us


Eye Valley@China
Eye Valley@China is a new research and development institution and industrial platform for eye health, jointly supported by the Zhejiang Provincial Party Committee and Provincial Government, guided by the Wenzhou Municipal Party Committee and Municipal Government, and in collaboration with Wenzhou Medical University and Longwan District Government, as well as Eye Hospital, Wenzhou Medical University. It is the only comprehensive innovation center for the eye and vision industry in China. The project was initiated in September 2018, officially opened on June 30, 2020, and has since registered 196 technology-based enterprises, established 32 co-built enterprise joint research institutes, signed contracts with 76 investment fund companies, and collaborated with 56 multinational enterprises and listed companies. It currently includes the Central Incubation Park, Eye Valley China Expo Center, and the Eye and Vision Equipment Manufacturing Acceleration Park.
International Eye Health Technological Innovation and Industrial Development Forum & Ophthalmic Innovation and Entrepreneurship Global Competition, is organized by China Eye Valley in conjunction with Wenzhou Medical University Affiliated Eye Hospital and other related institutions. As an integral part of the World Young Scientists Summit, the Eye Valley series of conferences focuses on the innovative development and industrial transformation in the field of eye health. Its aim is to further enhance the level of ophthalmic medical care and innovation and explore new models for collaborative innovation and transformation. Over the past four years, it has attracted over 650 high-level innovation and entrepreneurship teams from both China and abroad. With the favorable industrial environment, generous support policies, and active market capital, many high-tech projects have successfully settled in and taken root in Eye Valley.
The World Young Scientists Summit (WYSS)
The World Young Scientists Summit (WYSS) is jointly organized by the China Association for Science and Technology (CAST) and the People's Government of Zhejiang Province. With the vision of promoting the construction of a human destiny community, the summit focuses on the theme of "Gathering Talents Worldwide to Create a Better Future" and has been held for four consecutive sessions. In 2019, Chinese President Xi Jinping sent a congratulatory letter to the inaugural summit, emphasizing that "the future of science and technology lies with the youth." In 2020, United Nations Secretary-General António Guterres sent a letter to young scientists participating in the summit. In 2021, the summit saw participation from prominent figures including the President of the International Council for Science and the President of the International Union of Pure and Applied Physics.
Over the four sessions, WYSS has continually strengthened its connections with renowned international scientific and technological organizations. It has consistently focused on the United Nations Sustainable Development Goals, harnessed the power of the global scientific community, actively fostered an open innovation ecosystem, and promoted youth engagement in global science and technology governance. WYSS has established exchange relationships with over 100 countries, international scientific organizations, and more than 100 foreign universities. It has invited over 30 Nobel laureates, Turing Award winners, and other top scientists from around the world, as well as nearly 360 academicians from both China and abroad, and over 3,200 young scientist representatives.
Through the successful hosting of the four summits, the host city of WYSS, Wenzhou, China, has established the World Young Scientists Entrepreneurship Fund with a total scale of 2 billion RMB. It has also founded a 43,000-square-meter World Young Scientists Incubator and a 500-acre World Young Scientists Pioneer Park.
Previous competitions


The third edition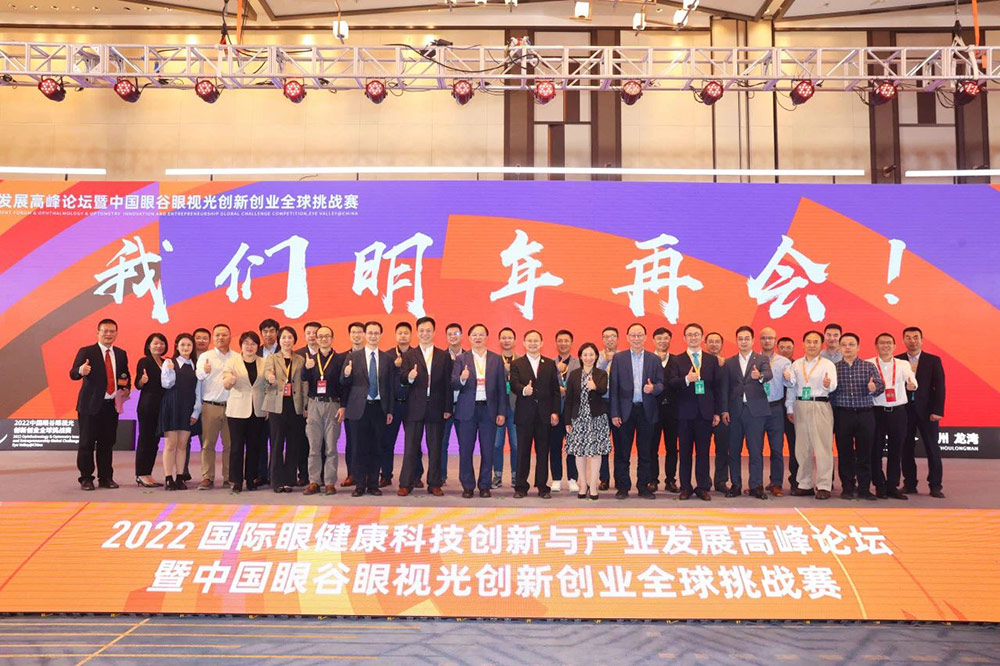 The fourth edition


* The final interpretation is reserved by the organizing committee
2023 Eye Valley @China Ophthalmic Innovation and Entrepreneurship Global Competition Organizing Committee
September 2023
Click "Read the original article" to go to the official website of the competition